Original article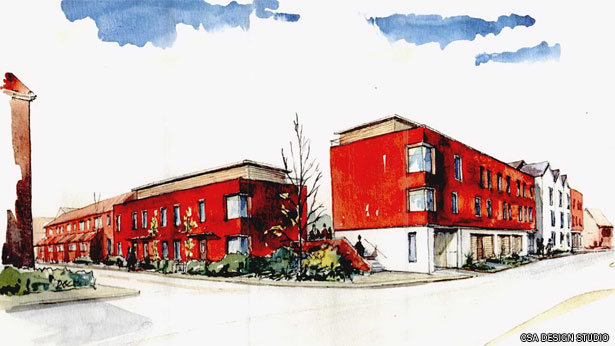 A group of people have teamed up to deliver a self build eco-cohousing community on a former industrial site in Norwich.
The
Sussex Street Cohousing group
has purchased the half-acre city plot to build nine houses and eight apartments surrounding an internal courtyard and sitting alongside flexible office space and retail facilities.
The homes will make use of natural light through large south-facing windows and retain the gathered heat through high insulation levels and Mechanical Ventilation Heat recovery (MVHR) systems. A whole-building biomass boiler will provide an efficient overall heating system and flat roofs will store grey water for flushing toilets.
Similar cohousing schemes usually see residents sharing facilities - normally within an 'Common House' - for cooking, eating, washing clothes and socialising. They may also share laundry amenities and might even collectively grow food via an on-site allotment.
The Sussex Street Cohousing group currently consists of supporters and an overarching Community Interest Company (CIC). Once the development is completed, the CIC will sell each home to the supporters. The CIC will eventually manage and maintain the scheme, in a similar way to how a
Community Land Trust
operates – and the homebuyers will each become members.
An introductory drop-in session to allow people to find out more about the proposals is being held this Saturday (7th November) at
The Stage in Norwich
from 11am.